Wiejska Wędzarnia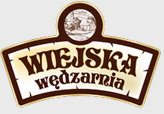 Wiejska Wędzarnia is only place of this kind where you can taste homemade smoked cold meats from our smokehouse, regional dishes prepared by great cookers from our kitchen and you'll buy products and alcohols from around the world that are not available somewhere else.

To meet our clients demands we' re constantly adding to our offer products, that they are search such as e.g. cold meats imported from different sides of Europe and world Lithuania, Slovakia, fishes from Polish sea and freshwater, bread from real Kurpie region bakery etc. among others.

   
Main Page
Our Brands
Newsletter
Copyright 2020 www.spshandel.pl - SPS HANDEL Sp. z o.o. | Opracowanie: A.M.