Distribution Centre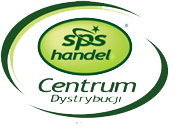 Well managed distribution channells allow to reach to wide group of recipients: starting from retail client through small shops ending up on big retail chains.
In order to address the expectations of retail clients we created Distribution Centre.
Today warehouse storage area exceeds 14 000 m2. Storehouse is located in Ostrołęka on Targowa 34 street.
Contact details:
Main Page
Our Brands
Newsletter
Copyright 2020 www.spshandel.pl - SPS HANDEL Sp. z o.o. | Opracowanie: A.M.